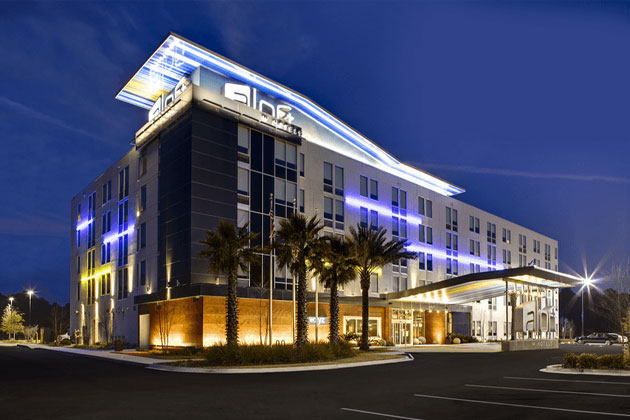 This property is currently owned and was developed by The Odom Organization. Now Open – Project opened January 2021.
The next generation of hotel, using technology and design to enhance experiences, ALOFT Hotel is located at 19391 David Memorial Drive, Shenandoah, Texas. The Odom Organization entered into a licensing agreement with Marriott International Inc to develop and build an ALOFT branded hotel in the vicinity of The Woodlands Texas. Odom analyzed and purchased a 2 acre site just off of I 45 and worked extensively with Montgomery County Texas and the local community to secure all the required entitlements to development a 116-unit hotel on the property. Full architectural and construction plans for ALOFT hotel were developed for maximum use of this site as a second-to-none upscale hotel.
The newly constructed ALOFT hotel features spacious, loft-like rooms, 1800 square feet of meeting space, and outdoor splash pool, tech forward innovation and an energetic atmosphere.
Different by design, this property offers:
SPG Keyless Guest Room Entry, which means your smartphone and Apple Watch just got smarter. The Mobile Key program means you can stop fumbling for your room key and get your door open in an instant. And it's easy. Just register for the program and opt to go keyless. When you get to the hotel, you'll receive a text with your room number – taking you out of the check-in line and unlocking the door to your room without skipping a beat.
Re:Fuel by ALOFT, will offer snacks on snacks, 24/7, as well as an industry leading innovative new breakfast format. Innovative digital Kiosks, not seen before in the hospitality industry, will be at the heart of the Re:Fuel by ALOFT program.
Re:Charge by ALOFT, which is a 24-hour fitness center.
WXYZ Bar, the signature bar which will feature live local music.
This hotel is within minutes of The Woodlands mixed-use town center Market Street, the Woodlands Mall and a concert amphitheater The Cynthia Woods Mitchell Pavilion. This hotel offers direct access to I-45 ensuring a convenient commute to Bush International Airport (IAH). ALOFT hotel (The Woodlands Area) will take your hotel experience to the next level, providing innovation and sophistication so you can recharge, refuel and relax in the most connected way possible.